Vietnam is also becoming an increasingly important destination for U.S. investment, especially as the U.S.-China trade war leads some American companies to relocate parts of their manufacturing operations.
"Vietnam will become an increasingly important link in the global supply chain," said Le Hong Hiep, a senior fellow in Vietnam studies at the ISEAS-Yusof Ishak Institute in Singapore.
Washington, which lifted a ban on arms sales to Vietnam in 2016, also considers it a promising market for weapons and military equipment as Hanoi tries to reduce its reliance on Moscow.
Strategically, experts say, the U.S. sees Vietnam as an important partner in its effort to counter the rise of China, particularly its expansive claims in the South China Sea, a resource-rich waterway through which trillions of dollars in trade flows each year.
Matthew Pottinger, who served as deputy national security adviser in the Trump administration, said that Biden's quick trip to Hanoi is undoubtedly intended as a signal to Beijing.
By shoring up ties with Vietnam, the Biden administration is "putting pressure" on China, he said in an interview with NBC News.
"It shows the administration does understand what's going on here," Pottinger said.
In some respects, the U.S. has been an "ardent suitor" when it comes to China, he added, sending a series of senior officials to Beijing in an effort to improve ties.
"The U.S. is also 'dating around,' to torture the 'ardent suitor' metaphor," Pottinger said. "We're trying to make this other side jealous as well."
Hiep, however, said Biden's visit to Vietnam is not all about China. The two countries have "enormous interest" in working together on issues such as trade, investment, technology and climate change mitigation, he said.
"It's true that China has a role to play in all these developments, but it's just part of the picture," he said. "There are other, more important things in this evolving partnership."
Hanoi and Washington are also unlikely to mention China in relation to their upgraded relationship, Hiep said, particularly as Vietnam wants to maintain a balance in its relations with the two powers.
China has warned the U.S. against using its relations with individual countries in Asia to target a "third party."
"The U.S. needs to give up the zero-sum game and Cold War mentality, observe the basic norms governing international relations, refrain from targeting any third party, and avoid undermining regional peace, stability, development and prosperity," Chinese Foreign Ministry spokesperson Mao Ning said at a regular briefing in Beijing on Monday.
Advocacy groups have urged Biden to use his visit to raise Vietnam's worsening human rights record and press for the release of more than 150 political prisoners.
Last year, the State Department added Vietnam to its special watch list for violations of religious freedom, and the U.S. Commission on International Religious Freedom said in a report Tuesday that while Vietnam had made some progress in the last decade, a recent crackdown on civil society and increasing violations of religious freedom indicated a "clear reversal in that once-positive trajectory."
Human rights appear to have taken a "back seat" amid U.S. competition with adversaries such as China and Russia, Hiep said.
"The U.S. now seems to prioritize its strategic interests over value considerations," he said, "so they have still paid attention to Vietnam's human rights record, but they seem to adopt a less critical approach."
Broader regional ties
There was some disappointment in the region that Biden, who arrived in India on Friday for the annual summit of the Group of 20 economies, opted to skip a gathering of Southeast Asian leaders in Indonesia this week after attending the event in Cambodia last year. Vice President Kamala Harris represented the U.S. instead at the annual summit of the 10-nation Association of Southeast Asian Nations, or ASEAN, in what was her third visit to the region.
Chinese President Xi Jinping was expected to be absent from both events.
The White House denies that the Biden administration has been insufficiently engaged in the region, noting that last year Biden became the first president to host ASEAN member states at the White House. The U.S. and ASEAN also upgraded their relationship to a comprehensive strategic partnership at the Cambodian summit last year.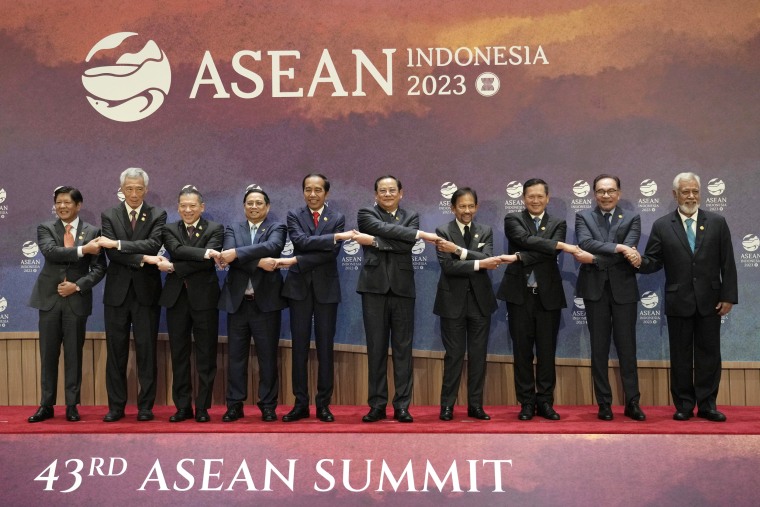 "I would argue that America's commitment to and our relationship with ASEAN and its member states has never been stronger," Daniel Kritenbrink, assistant secretary of state for East Asia, told reporters Thursday.
Hiep said U.S. engagement in Southeast Asia had improved in recent years, especially under the Biden administration. He pointed to Biden's Indo-Pacific Economic Framework, as well as efforts to strengthen ties with countries such as the Philippines, which agreed this year to an expanded American military presence.
While the U.S. has the edge over China in most of Southeast Asia when it comes to soft power and popularity, the region generally views China as the predominant economic power in Asia, according to a comprehensive polling analysis released last month by the Center for Strategic and International Studies, a think tank based in Washington.
The report warned that the gap in economic influence is only widening in favor of China, which is the biggest trading partner for all 10 ASEAN member states and the largest investor for most of them. But growing regional concerns about China's rhetoric and actions are creating opportunities for the U.S. to strengthen ties, it said.
"Washington should advance a positive political, security, and economic agenda to meet the moment," the report said.