WASHINGTON — A Jan. 6 defendant who claimed she believed she had the right to climb over broken glass to enter the Capitol was sentenced to 2 and a half years in federal prison on Wednesday.
Yvonne St Cyr — who during her trial in March was found guilty of two felony counts of civil disorder as well as several misdemeanors — was sentenced by U.S. District Judge John Bates to 30 months behinds bars, 36 months of supervised release and a $2,000 restitution to the Architect of the Capitol.
After her trial, St Cyr had said in a Facebook livestream that she wasn't sure that the case would ever move to sentencing because "the truth" would come out before then.
"Their s—'s gonna blow up!" she said. "So, just keep watching Tucker, keep spreading the truth, keep talking about the corruption, keep sharing, and we will bring the system doooooowwwwn."
Tucker Carlson's Fox News show, which St Cyr was referencing at the time, has since been cancelled. The conservative commentator known for promoting conspiracy theories and disinformation then launched a new version of his show on X, the social media platform formerly known as Twitter.
At her sentencing hearing on Wednesday, St Cyr's attorney, Nicole Owens, said her client was at the Capitol on Jan. 6, 2021, because of a "misguided sense of duty." After attorneys for both parties spoke, St Cyr was given the opportunity to speak. 
St Cyr, who previously served in the military, told the court repeatedly that she took an oath to defend the Constitution. She also repeated her claim that the last presidential election was stolen. Owens had defended her client's claim, telling the court: "It's not some fringe belief."
Assistant U.S. Attorney Jacqueline Schesnol, for her part, said St Cyr "is a person who does what she wants, without care to rule, authority, or the law."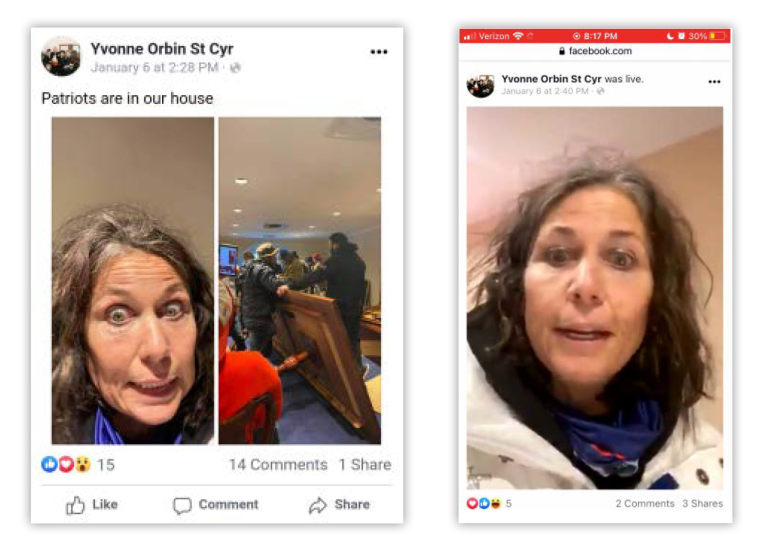 "I've been on a spiritual journey," St Cyr said, then she launched into a bizarre 45-minute rant — until the judge cut her off with a stern warning to wrap up — on a series of topics, including her beliefs about the air we breathe, her spiritual being, radio frequencies, her difficult upbringing, and a woman she watched get arrested on a playground during the Covid pandemic.
In sharing a prepared version of her remarks online, St Cyr acknowledged that her comments were "a little over all the place and a little messy, kind of like life."
St Cyr also talked about her actions during the Capitol riot. She did not express regret or accept any responsibility for her actions that day, and she indicated that she wasn't concerned about the prospect of serving jail time.
"The spirit has assured me that isn't going to happen," she said.
Even if I do end up in federal custody, she said, "prison will give me plenty of time to write a book."
St Cyr also mentioned Donald Trump once during her sentencing hearing. She accused the judge of hating the former president because he's not "part of the system."
"I did the right thing," St Cyr said about her actions on Jan. 6. "I know it sounds delusional." 
In a Facebook livestream after her sentencing, St Cyr also said she had not filed taxes since 2019, and encouraged her followers not to pay their taxes.
"Keep your damn money," she said. "Stop giving it away."