Critics ripped Vice President Kamala Harris Tuesday for claiming conservatives' push to ban "gender ideology" classes from public education means they're trying to ban "women's history."
Conservatives on Twitter responded by accusing Harris of lying or being ignorant of the fact that banning gender ideology in school is about preventing lessons that teach kids they can undergo gender transition if they feel as though they're in the wrong body. 
Harris made the comments during a recent address at an event held by abortion advocacy non-profit organization EMILY's List this week. While telling the audience about the alleged political threats posed by conservatives to feminists and the LGBTQ community, the vice president mentioned the right's objections to public school curricula.
2 MIGRANT BUSES ARRIVE OUTSIDE VICE PRESIDENT KAMALA HARRIS' NAVAL OBSERVATORY RESIDENCE IN DC
"And most recently, they even want to eliminate classes that teach 'gender ideology,'" Harris said. After pausing for effect, she asked, "What are we talking about here? Classes that teach women's history? Women's equality? The study of the fact that there are still only 25 women in the United States Senate, in a body of one hundred?"
Harris' claims seemed to echo critics of Gov. Ron DeSantis, R-Fla., who have accused him of erasing Black history because his administration has moved to ban critical race theory in Florida classrooms.
The vice president was swiftly called out for the claim on social media. 
The Babylon Bee founder Seth Dillon spelled it out for the vice president, tweeting, "No, we're talking about the ideology that makes it impossible to define 'woman' and convinces kids they were born in the wrong body."
WHITE HOUSE – AGAIN —  SEEKS TO REHAB KAMALA HARRIS' IMAGE AHEAD OF 2024: 'DRAG ON THE TICKET'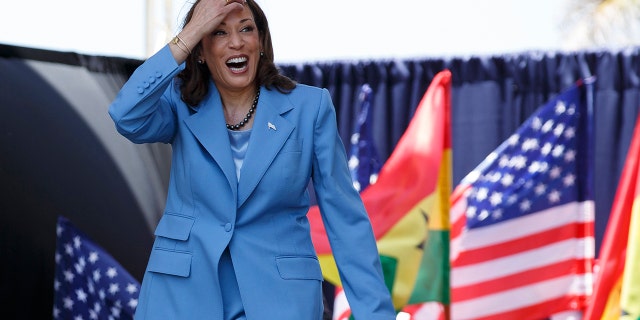 American Conservation Coalition's Stephen Perkins offered a sarcastic response, tweeting, "Ah yes, Republicans want to make it impossible to learn about the gender makeup of the U.S. Senate. Who leaked The Agenda to her???!!!"
Conservative influencer Amy Curtis added, "She's absolutely an awful person."
Conservative blogger Mike LaChance remarked on Harris' apparent willingness to comment on any subject. "Never read the book but always willing to give a report," he observed.
Conservative commentator Graham Allen chalked the misleading statement up to Harris being gaffe-prone, tweeting, "Her mind is a blender…"
CLICK HERE TO GET THE FOX NEWS APP
Jake Schneider of RNC Research tweeted, "A primary reason an overwhelming majority of Americans can't stand Kamala Harris is because she lacks a basic understanding of everything."